I'm pleased to announce the release of my new CD, Hearts Across the Sea.
I composed the music and perform on the piano for the CD.
"An emotionally meditative piano offering with splendid orchestral
background accompaniment…Unlike some piano presentations,
Misha's touch is not fainthearted or pugnacious, but dramatically
reflects the ethereal patterns of beauteous sound."
- "Mindquest", Fall 2001, Lightword Publishing Company
Listen to my songs:
10. Rewind My Life, I Want This Back Again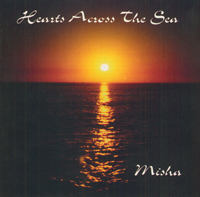 It was recorded and mastered at Maravel Studios
in Pacific Palisades, California.
I also owe a debt of gratitude to Lauren Murray
for her unfailing support and generous assistance.
The cover photo was taken by my friend Galina Rostova.